FFS, I'm done with the super-self-customized website designs, I'm going for something more simple now, with a blog (where I'll post sketches, progress, this and that), a cut back gallery and some pages. I guess it's better this way and maybe I'll finally start to update my website more often 
So, something to start with, here's some new stuff I drew recently: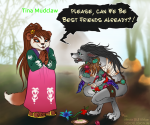 Yeah, pretty much Avatar fan art, or to be more precise, artwork I did for my new webcomic Layon Yayo 
And a little pic I had to draw because of the Tillers daily quests in WoW:MoP…
 Maybe you know that feel yourself.
Right now, as always, I'm working on several projects, I'll post some progress pics of one of those WIPs pretty soon.
However, I got the feeling that I really need to improve my drawing skills. Why re-organizing my gallery/images, I took a deeper look on my artwork again and I realized, that I have to improve. So buying a new graphic tablet would come in more than useful to me. After having my Bamboo for so long I'm thinking about saving money for a Intuos 5 L. I'd love to have a Cintiq 22 or 24 HD, but they're not affordable for me.
But I guess an Intuos will be more than enough
At least for now, hehehe…